An Atlanta tradition is taking a ride on
the Rich's pink pig
.  Although Macy's took over.  I rode it for the first time last year...along with Bryce & Avery's first.  Paul is a veteran, riding it since he was Bryce's age on the original.  The 2 minute ride is
worth the long wait
in line.  Well do it again next year...
here is the original behind us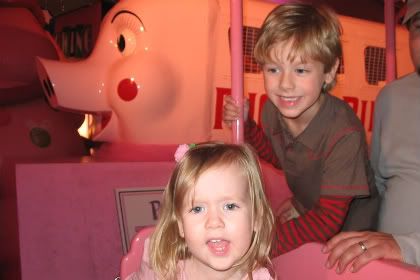 I like this photo from last year... 
our tree is starting to droop now...I put some presents underneath to make it happier!
hooray the Polar Express party kept the kindergarten kiddos calm & the ice cream the other day was a success..& learned to use 2 baggies for containg the ice cream mixture instead of just one. Also the dancing queens went without a hitch for our holiday show. But bestest of all....
Christmas VaCaTioN has started!
!!!!!